We are honored to have received countless praises from our respectful guests from all over the world. Here are just a few of them: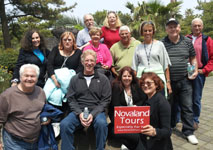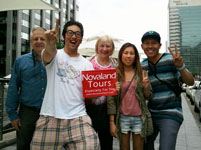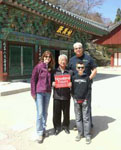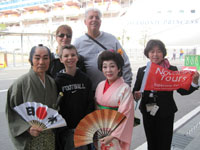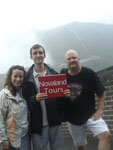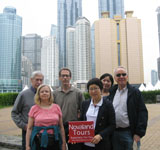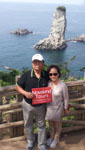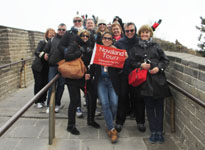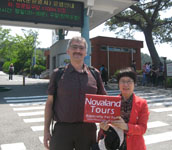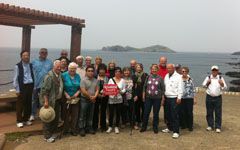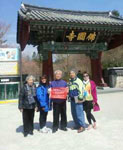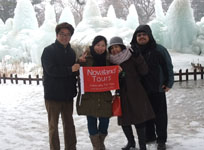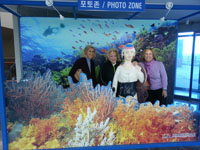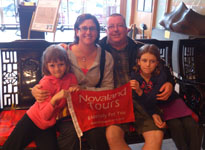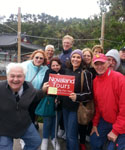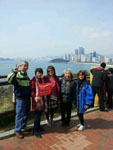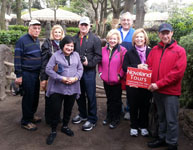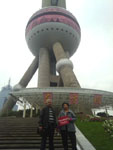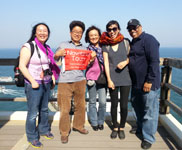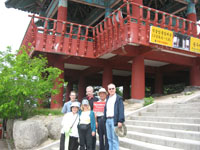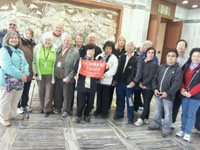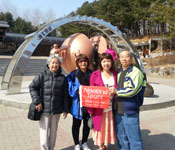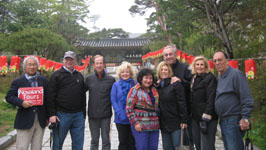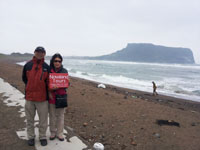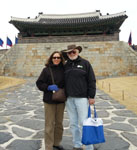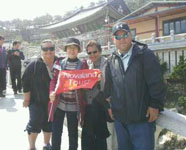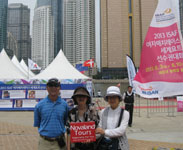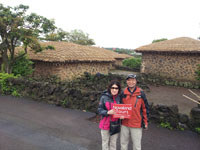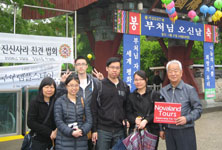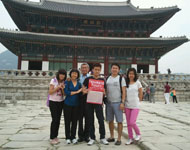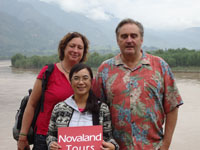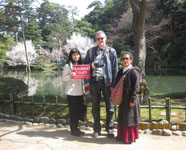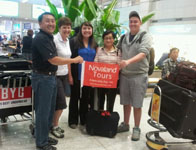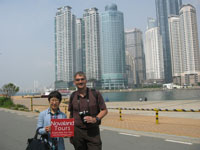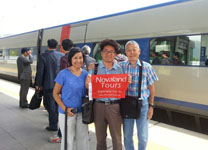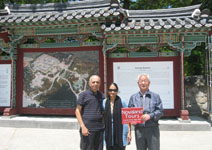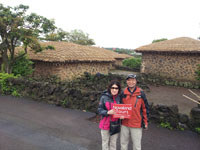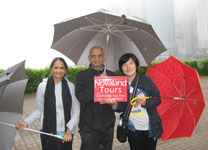 ---
Ni hao Ming Hong
Hope all is well. We arrived home safely.
I sincerely apologize for our untimely reply.......it getting more and more difficult to adjust to the time change.
We had a very enjoyable and memorable time in South Korea......the itinerary that you developed exceeded our expectations. Our itinerary allowed sufficient time for visit each attractions; for shopping and leisure. Our two guides....both of them named Tommy....spoke English well; were very knowledgeable; helpful; courteous; friendly; accommodating; and timely.....both exceeded our expectations. Their recommendations for lunch restaurants were excellent...both were helpful in the menu selections.
The vehicles used were comfortable. The hotel accommodations were as we requested, and met our expectations.
Novaland Tours is reputable,reliable, and trustworthy. Novaland, in developing our itinerary, worked with us until we were satisfied satisfied.
We have only positive comments.....no negative comments.
Ning Hong, please use our comments on TripAdvisor.
Later, we will forward a few photos of our trip to you.
Xie xie. Please keep in touch.
Please take good care....stay healthy and safe......Mel and Irene (2013.5.21)
---
Hi Tina

Attached please find the completed evaluation form.  I thought I would give you more insight to our trip by this email as the evaluation form was not detailed enough.

The overall trip in Korea was good and William Shin, our tour guide/driver was excellent.  William picked us up at the airport and was very timely everyday of our visit to Korea.   He was very gracious and polite and went out of his way to ensure that we were having a good time.  He even asked a folk band at  Nakaneusung old village to perform one more time.  It was pretty clear that these performers were finished for the day and ready to go home.  Please thank William again as he made our trip very enjoyable and very safe.

Thanks  again Tina for your excellent service to make our trip a very memorable one.  From the time we landed in Korea to our departure, we felt that the service and delivery was excellent.

Laura and I  want to see China in 2016, and we will certainly use your services again.

Harry and Laura (2013.05.15)


---
Katherine, It was a great trip, Tommy is so patient with my mom and knowledgeable. It was nice traveling with Leah also - made it especially special. My husband and my brother was concerned that I booked a trip with an unknown internet travel agency, but I think you changed their minds. You were always there for us, and your staff was there on time on airport pickups and each hotel pick ups for our daily tours. Tommy was a great tour guide and was with us for almost the entire trip - we all got teary eyed when we parted. I would recommend Novaland to everyone.
Busan was our favorite place - Westin Chosun is situated in a very nice beach area. I wish we stayed there an extra day or two.

Marie Kang-Scott (2013.5.10)
---
We have reached at our Indian destination safe from Korea and Japan 23 days tour.
Thank you very much for exellent guidence and organizing tour for us. We are happy and enjoy most. Will definetley come to you for future tour to your area. Ms Tina has always on toe to answer for our questions and solutions. Please send me pictures your representative has taken at all three places with your NOVALAND board.
Thanks & Regards
Navin Patel
Baroda/India (2013.05.07)


---
Dear Lillian Lin,
I have been very slow finishing this tour evaluation (almost 4 months!), but I want you to know it is not because I had any reservation about you or Novaland Tours.  Just the opposite is true, your service and helpfulness was totally awesome.  I especially appreciated you attention to my last minute planning and providing a schedule that worked with meeting my friends in South Korea.   Your recommendations were excellent and Novaland Tours provided excellent value.  I have already spoken highly of you and Novaland Tours service to my friends and co-workers.  As I think about another tour this coming December, I will definitely be seeking your consultation and planning.  Please send me some ides about where I might tour in China and Vietnam.
Sincerely,
Larry Elliott (2013.4.26)

---
To whom it may concern,

We just got back from our Celebrity cruise and I want to make sure that you are aware of how wonderful your guide in Busan is, Kim. ( I don't remember her first name)

She treated us like family, especially when one lady on our tour became ill. She stayed with her until she was able to put her in a cab to send her back to the ship. We never expected to have such a rewarding, educational and fun time in S Korea. We are all so pleased to have experience some of your country. I especially enjoyed saying "hi" to many of your children. Since I'm a retired teacher, I see the joy, sparkle and freedom in their eyes. What a pleasure to see! We all have put S Korea on our places to return.

Thank you so much.

Rosemary Sparrow (2013.4.26)

We also enjoyed Cindy in JeJu Island, but her tour was not as strenuous or detailed as Busan. Kim really had a had job and was wonderful! The Be Bim Bop in Busan was fantastic also!
---
Greetings from New Zealand
I have just returned to New Zealand from a 9 day / 8 night tour of South Korea which your company organised.
I must congratulate your Katherine Jiang for making everything so simple !
She did a marvellous job everything happened the way she said it would.
Her instructions were exact, her prompt replies to my pre-tour questions combined with her courtesies made for a very enjoyable trip.
I will be using your company again and I can highly recommend it.
Please feel free to use this as a reference if you wish.
regards
Dennis Dickinson – Palmerston North – New Zealand(2013.4.21)
---
Hello Katherine,
I'm pleased to have the opportunity to give you some feedback on the Tour and all of the arrangements. My wife and I were extremely pleased with the entire tour package and hotel accommodations. The tour guides were excellent and very professional. The sites we visited were enjoyable and the meals provided were extremely good. We felt we were able to get a real feeling for the current and past Korea.
Right from the beginning all the transportation connections and tour guides and drivers were excellent and timely in picking us up at the airport and taking us from the hotels on our daily tours.The transportation vehicles and drivers were excellent.
I cannot say enough about how pleased we are with our Korea experience, and we will definitely recommend your services to our friends.
Thank you again for all your help in working with us in putting this package together. After the trip, our only regret is that we didn't spend enough time in Korea to visit more cities and sites.
Thank you
Gene and Brenda Ro (2013.3.24)
---
Dear Lilian,
i think i must come back again as there is so much to see at your country.
Our experience from the tour i can say that for me was wonderfull only wishing to stay maybe a little more time in some locations as the time was really short with so many things to see and was maybe a little tiring for my mom. Food i liked most at Queli (city near Confucious house)as it felt it less tourist, my greetings to you and Tony for that. In Pekin i like it most the last day was very tasty also.
About our guides all of them were very nice with us so i dont have any complain. I hope soon i can do another trip and then ill contact you again for it!
Take care and thanks a lot for everything!! kind regards and hoping to see you soon
Perla Carías
(September.11, 2012)
Dear Lea,
I cannot thank you enough for all your help and the excellent service I got. I had a wonderful time in Dunhuang and cannot wait to go back, the art is so beautiful. Thank you again and I will certainly give your name to anyone travelling to China in the future. As for me, I will only use you.
Best regards
Andrew
Ireland
(August 24, 2011)
Hi Christina,
Not having had dealings with you before, naturally, we didn't know what to expect. Your first call which reached us at Siem Reap Hotel shortly after we arrived was very appreciated and reassuring.
After your first call, we felt very reassured that what was expected would come about on time and in good manner. We would definitely contact you again if we were to return to Cambodia as well recommending your services to others. Thank you for making our trip to Changes enjoyable, Christina.
Oehme
Form USA
(November 10, 2010)
Tom,
Thank you so very much for the proposed trip itinerary. It is very close to what I had in mind. You have done a very good job.
I wonder how you feel about flights to and from China. I can book our flights from Atlanta to either Beijing city or Bangkok for around $1600 per person, round trip but am having trouble with flights between China and Thailand.. I really do like the idea of doing your suggested Bangkok itinerary as the latter part of the trip...A very nice idea indeed.
Could you then, give us a quote on your suggested itinerary and also include thoughts on travel to and from Southeast Asia.
Again, thank you for a good job done quickly. I look forward to working with you as planning continues. One other thing I should mention is that May could be too early for us. June or July would be better but then I would think since that is your very busy season, a lot of travel days may already be taken. Again, thanks!
Robin
(United States, Feb.2, 2009)
Dear Lisa,
Just a note to say a big thank you to you & your company for making our trip to Nepal, a most memorable & enjoying holiday. The 17 days trip went by so smoothly and without any hitch.
Your guides & drivers have been very helpful and had on many occassions gone out of their way to assist us with many things.
All in all, we had a great time and thanks again for your input. We are looking forward to go to Indochina very soon and hopefully bringing with us more families & friends. I will be recommending your Company to anyone interested to visit Asia.
Regards
Ari Silvan
Finland
(Mar.5, 2008)
Dear David,
Just wanted to let you know what a wonderful time we had in Xian on the tour you arranged for us. It all went very well and we absolutely loved the terracotta warriors.
We did some sight seeing in Shanghai too but still have a lot of your country to see. I will pass on your details to any other crew who are interested.
Thanks again.
Marleen Duley
From United States
(Sep. 20, 2007)
Dear Lili,
Thank you very much for arranging such a wonderful tour for us in Vietnam. I reached home last night after a wonderful 2 weeks thanks to your excellent organization.
The tour guides were all really good, they could not have been better and the hotels, the transport, the visits were all excellent. The arrangements were so smooth even when you had to change things at the last moment.
The whole experience was so impressive and it goes without saying that Vietnam was just amazing. Many many thanks for all you did.
With best wishes
Brett Murdock
(June16th,2006)
Hello
We are now back in England having really enjoyed our trip to China.
Thank you for your excellent arrangements and attention to detail.
Kind Regards
Tim from United Kingdom (Oct. 15, 2005)
We are honored to have received countless praises from our respectful guests from all over the world. Above are just a few of them.

After every of our clients finish their tours, we will send them evaluation forms to know how they feel about our service. One question is "

We sometimes have requests from potential customers who would like to write or speak with a previous customer. Would you like to be our reference by authorizing us to give out your E-mail address for not more than three times

?" Some clicents say OKAY.

Therefore, if you are unsure of how our company and our service is, you can ask us to give you our previous clients' emails(mainly from UK, USA, AU and other English speaking countries).

You can directly contact them vis emails or calls to know our company

.
Want to know more about our company, please fill in the form below: