5 Best beaches in Japan for Summer 2019
Japan is surrounded by the sea, and it is actually a series of islands. The four main islands of Japan are:


1, Hokkaido

2, Honshu, the largest island, on which the capital, Tokyo, is located.

3, Shikoku, the smallest and least populous of the four main islands.


4, Kyushu.

So Japan is dotted with beautiful beaches, the best beaches for sunbathing and swimming are in Okinawa, a Japanese island in the East China Sea, where is north of Kyushu. But nice beaches exist in other regions too. Today, we would like to share 5 wonderful beach destinations in Japan for summer vacation.




No. 1 Furuzamami Beach, Okinawa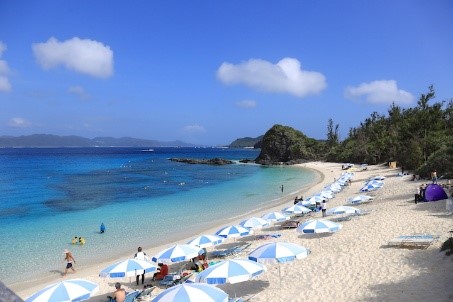 Frequently listed as one of the best beaches in the country, Furuzamami Beach offers soft, white sands and warm, clear blue waters. It's the most beautiful place on Earth, with stunning coral and fish so beautiful you didn't think they could possibly exist. It is just 1 hour by high speed boat from Okinawa to Furuzamami Beach and so because it is easy to visit it is very popular. For beginners, it is a great place for easy snorkeling, if you don't have snorkeling equipment, you can hire some from the onsite rental agencies. You can also use beach house, banana boat, flippers, wet suits, or floats for various aquatic sports.

No.2 Yonaha Maehama Beach, Okinawa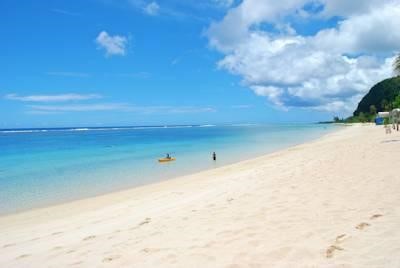 A popular beach in Miyakojima with many nice beaches. Although it is Miyakojima with a relatively large number of small beaches, this beach has a very large sandy beach, stretching 7 km. The beach hosts the swimming section of an annual "Strongman" triathlon at the end of April. Even in the season where tourists are the most popular in the summer, it is rare that they overflow with people like the popular beaches of Honshu and Okinawa Main Island, and it is a very attractive beach. There is a cafe and facilities nearby for marine activities and foods, so you can enjoy it enough. You can also see Miyakojima's famous Ohama Bridge.

No.3 Nishihama Beach, Okinawa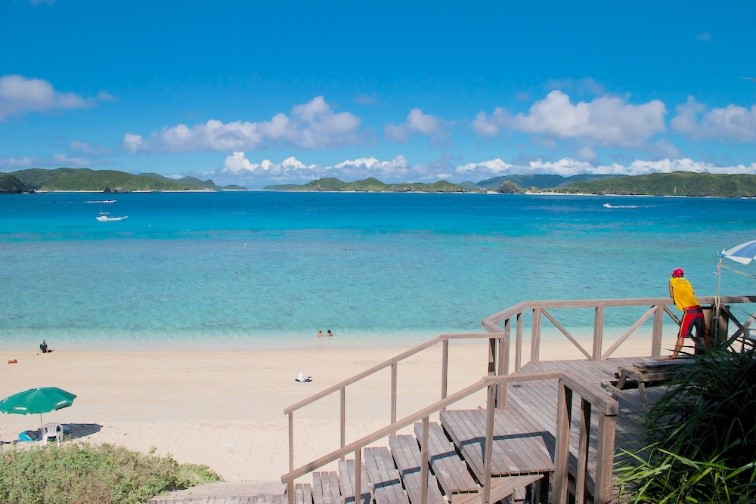 Nisjhihama is a 1 km long beach along the northeast shore of Aka-jima Island. The clear and transparent sea extends to the far end, and the scenery of beautiful inland sea of the Kerama Islands seen from the beach is outstandingly splendid, which makes it a superb view not only on Keruma Island but also among all of beaches of Japan. Snorkeling here is a must as the coral reef is fairly close to shore and has an abundance of colorful, diverse marine life. The area is peaceful and not too crowded. Japan on the world's largest travel review site, Trip Advisor. Based off the reviews of travellers from around the world, it received the Travellers' Choice Awards 2017 award for the World's Best Beach.

No.4 Hirizo beach, Shizuoka prefecture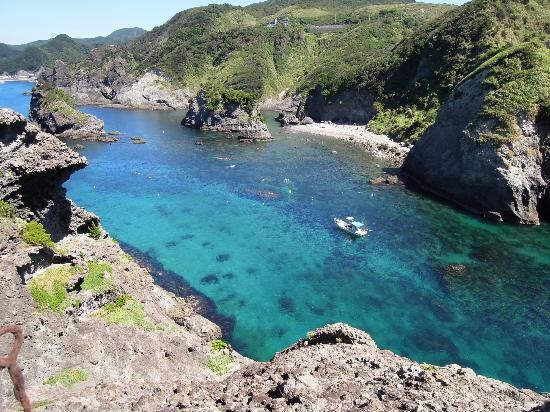 Hirizo beach is bordered by steep cliffs and can only be reached by ferry (only operating from mid-July to mid-September). That's incredible that you can find such a tropical place so relatively close to Tokyo. You can get there by car in 4 hours from Tokyo, however, beware the crowd of midsummer weekends. Hirizo Beach trumps its counterparts primarily thanks to its clear, calm waters which offer maximum visibility of the diverse sea life living among the abundance of coral. While the rocky beach most certainly isn't a good sunbathing spot, it's the best place to set up a tent to protect your belongings before taking to the waters to discover why the area is celebrated as a snorkeler's paradise.

No.5 Shirahama Beach, Wakayama prefecture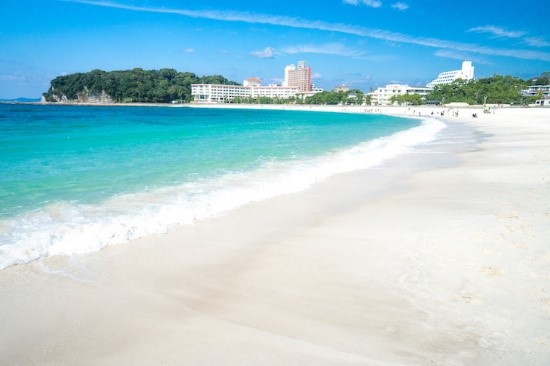 Shirahama(White Beach in Japanese) is located in the south coast of in Wakayama prefecture and one of the largest, most popular beach resorts in Japan. A two-hour drive from Osaka, you can reach the stunning sand beach which attracts a huge number of visitors. Shirahama is also famous for the hot spring resource and there are numbers of Onsen spots. This popular beach sees lots of visitors during the summer, and shops renting beach paraphernalia open during the swimming season. Public facilities include showers, changing rooms and toilets.