Full User Guide of JR Pass
The Japan Rail Pass (also commonly called JR Pass) is a very cost effective rail pass for long distance train travel in Japan.
The pass can be used only by foreign tourists and offers unlimited rides on JR trains for one, two or three weeks at a cost that residents of Japan can only dream of.
Below are some of the frequently asked questions for you to learn more about how to use the JR Pass.

HOW TO ACTIVATE YOUR JR PASS

1. Where do you activate your JR Pass?
A: At a JR exchange office. In order to activate your Japan Rail Pass, you will have to exchange your voucher at a JR office. These offices are to be found at the airport or in the main train stations.
Please note that exchange office may have different opening times: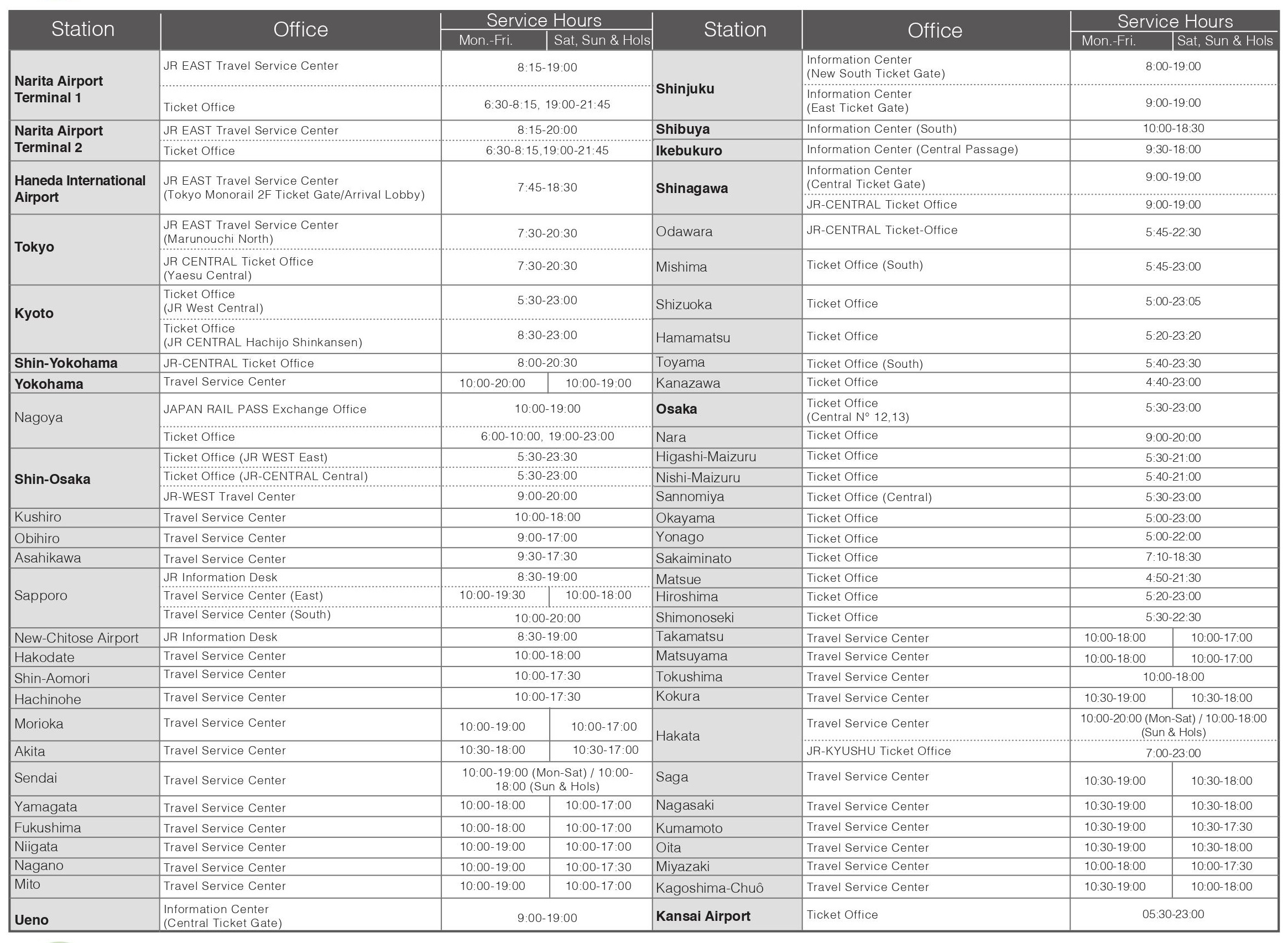 2. What documents do you need?
A: At the exchange office you will have to find out the form provided and present your passport plus the exchange voucher that you received in the post.

3. When should you activate your JR Pass?
A: When exchanging your voucher, you will have to decide on the date you want to start using your pass. Once it is validated you will be able to use your pass starting on the date you have chosen for the consecutive number of days for which your pass is valid.
Please note that:
* The exchange date does not have to be the starting date.
* The starting date has to be within 30 days of the exchange.
* If you hold a 7 days Japan Rail Pass, you should be careful about your starting date. On a tight schedule, it is better to use a day rather than to waste one.

HOW TO BOOK A SEAT & BOARD THE TRAIN

1. Do all trains have reserved seats?
A: All Shinkansen trains have cars dedicated to reserved seats (指定席, shitei-seki), and others dedicated to unreserved seats (自由席, jiyu-seki). Most local trains don't have reserved seats, whereas other trains like the Narita Express only have reserved
seats.

2. Why should you book a seat?
A: If you are not catching your Shinkansen during peak hours (7 a.m. to 9 a.m. and 6 p.m. to 8 p.m.) or during bank holidays, you do not need to book your seat and you can use any non-reserved seat by showing your Japan Rail Pass.
The Shinkansen trains run very frequently (every 30 minutes), particularly on the Tokaido line between Tokyo and Kyoto, so you don't have to worry about booking.

3. How can you book a seat?
A: You can do so without additional charges. Before catching your train, go into a booking office at the train station (midori no madoguchi) and show your Japan Rail Pass.
From June 2020, you can reserve your seats free of charge at automatic ticket machines, in addition to JR ticket offices, for guaranteed access to the train you want.

4. How do you board your train?
A: As the Japan Rail Pass is not a traditional ticket, you cannot go through the automatic gates. Instead, just show your pass to the staff in the glass booth next to the gates.

JR PASS VALIDITY
With a national Japan Rail Pass, you can use all the trains on the JR railway network including JR Kyushu, JR Shikoku, JR West, JR Center, JR East and JR Hokkaido. Of course, you will have access to local and express trains but also to the fast bullet trains, 'Shinkansen', that connect most of the main cities in Japan.

1. The JR Pass is also valid for:
In addition to the train, you will have access to other means of transportation with your Japan Rail Pass:
-- JR Ferry: JR Miyajima Ferry (please note that the JR Hakata-Pusan ferry to Korea is not included)
-- Monorails: Tokyo Monorail connecting Haneda Airport to Hamamatsucho Station
-- JR Bus: Local JR Buses on a limited number of lines


2. The JR Pass is not valid for :
-- Private Rail Lines: For non-JR rail lines, for instance Odakyu trains or Kintetsu trains, you will have to buy regular train tickets.
-- Super Express only Shinkansen: You will not have access to the 'Nozomi', 'Mizuho' and 'Hayabusa' Shinkansen.
Instead you will be able to take other Shinkansen trains that serve the same routes even if they take a little longer.
-- In cities: The Japan Rail Pass does not allow you to ride on subways or trams within cities. However, most big cities have a few JR lines that you can use to go around (Osaka Loop or Kanjo line, Tokyo Yamanote line, etc…)
-- Others: It is possible to take a night train with the Japan Rail Pass but the ticket is not valid for the sleeper cars, private cars in night trains, and special compartments for which you will have to pay an extra fee.
* If, during your journey, your JR train uses another company's tracks, and even if you hold a pass, you will have to pay a part of the trip. Payment can be made before boarding the train or on board.

HOW TO CANCEL OR CHANGE YOUR JR PASS
** Cancellation:
After purchase, it is possible to cancel your Japan Rail Pass and to be refunded under certain conditions.
1. Until when can you cancel your JR Pass?
A: If your voucher has not been exchanged, your Japan Rail Pass can be refunded within a year from the date
of purchase.

2. How much does it cost?
A: The cancellation fee costs 10% of your order (excluding shipping charges). Please note that if your voucher has already been exchanged for the Japan Rail Pass and / or you have already used it to take the train, a refund will no longer be possible.

3. How do you get a refund?
A: In order to get your Japan Rail Pass refunded, you need to send your unused voucher back to where you purchased it.

** Changing:
You have already ordered your Japan Rail Pass, and you would like to change the duration, or switch from an ordinary pass to a Green pass.
To do this, simply place a new order on the JR official website. You must then return the voucher you would like to change by registered mail, with an explanation note and the new order number to receive a full refund (excluding the delivery costs).
Please note that there is still a delivery charge for the new delivery. Check it in advance that you will be able to receive your delivery before your departure to Japan.


** Others:
What you can do in case of loss:
• You have lost your voucher (before exchanging it): You have to buy a new Japan Rail Pass. We will refund you the lost voucher 4 months after the issue date, after we have checked with the Japan Railway Company that the voucher has never been used. Cancellation fee may apply.
• You have lost your JR Pass (after exchanging it): you will have to buy a new pass as the Japan Rail Pass cannot be reissued nor refunded once exchanged.