We have enjoyed your tour very much, especially Young. We are thinking of using you again for China.
Gene
We was a bit nervous like others as the booking of our South Korea tours were entirely online and paying money in USD to a stranger company... luckily we still proceeded with Novaland Tours.
We deal with Mr Nick via emails and Wechat, he did a excellent job of organizing and coordinating our itinerary with his full patient & quick response. Our private trip was organized smoothly and comfortably, all the tour guides and drivers (in Seoul, Jeju & Busan) were friendly and helpful. Thank you so much for the last minutes changes in pick up arrangement due to flight delay on last day of our trip. We really enjoyed our South Korea trip with Novaland Tours.
everthing was great thanks.
NLT-180603-VJ97037

[Jun 19, 2018]
Hi, Doris.
We did have a good time in Japan, thanks to your advice and arrangement.
We definitely will consider Novaland Tour for our next holiday trip.
Thank you.


1=poor, 2=fair,3=good, 4=very good5=excellent
Aspect

Mark(1-5)

Advice or Remark

Travel Consultant

4

Very helpful and give valuable advice

Tour Guides

Command of English

3

Knowledge of Subjects

5

Lots of interesting information about Japan

Ability of Explain

4

Good idea to use English pronounciation to learn Japanese language

Attitude

5

Flexibility

5

Hide-san had to work overtime in Kyoto

Drivers and Cars

5

Hotels

Location

4

Hotel was on own arrangement

Comfort

3

Hotel was too small

Sights or Activities

Worthiness of Visit

4

Meet Your Interests?

4

Too Tight of Too Loose?

3

Traffic jam to Osaka, 2 hours behind the schedule

Meals

4

Some are small restaurant but the meals are 'oishii'

Public Transportation (train, flight, cruise, etc.)

4

Shinkansen booking was well arranged

Any Other Aspect
NLT-180618-VJ97281

[Jun 18, 2018]
邮件日期6.18,WhatsApp日期6.25
Hi Doris,
Yes we had a good time with Jay.His very flexible.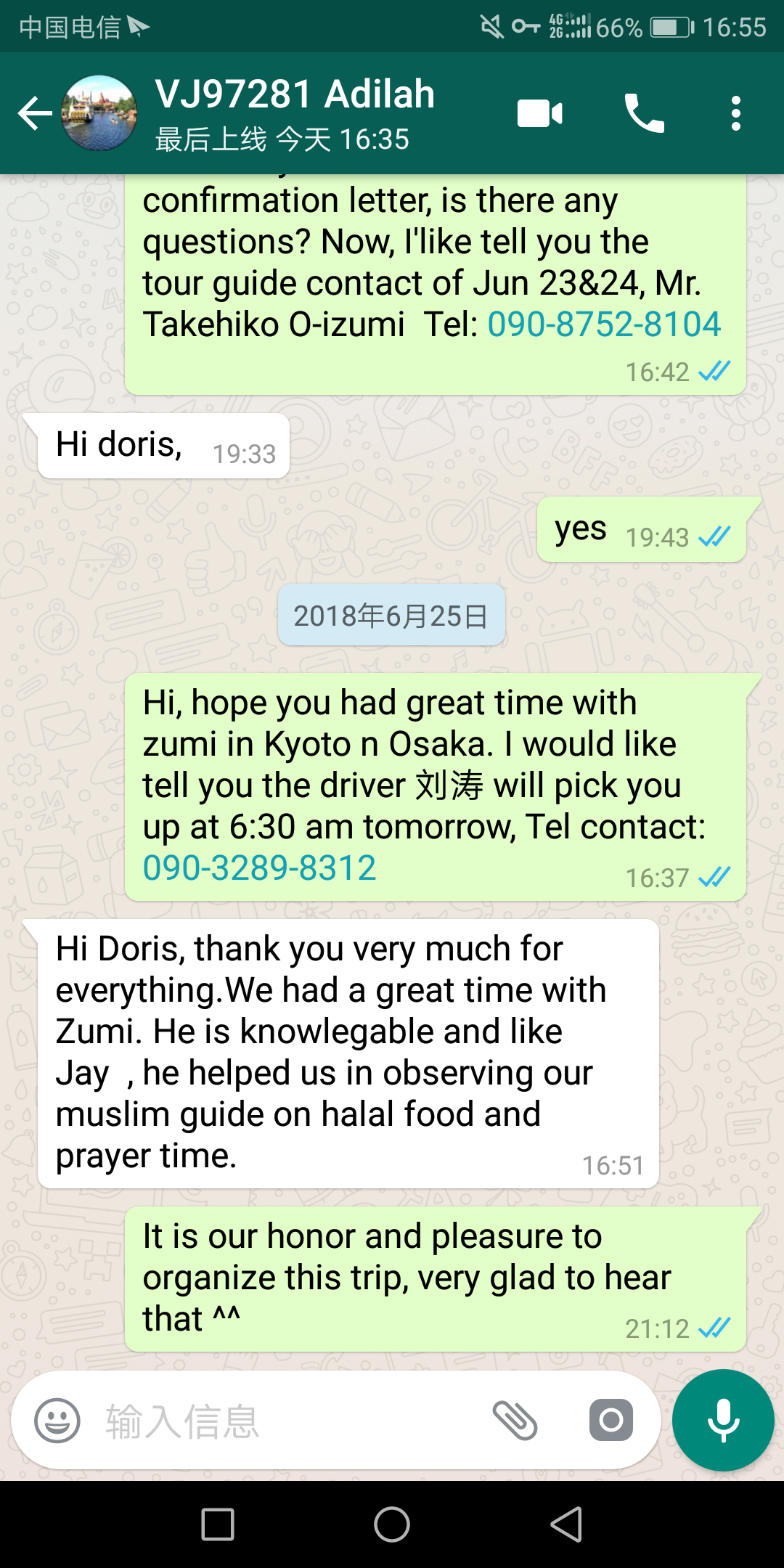 NLT-180608-FK96816

[Jun 15, 2018, from America]
We really love Jade our tour guide in Busan
He's really nice and very accommodating
NLT-180613-XJ100292

[Jun 14, 2018]
NLT-180609-VJ99407

[Jun 13, 2018]
Good morning Doris,
Thank you very much for everything, from the day your company fetch my mother and nephew, the 2 days tours, until last day, you send them to the airport.
Ben and the driver was fun and knowledgeable. They had wonderful and happy moments in Tokyo!


Regards,
Emily Agasid